Healthier, white and more durable titanium and dead teeth alternative
Ceramics or zirconium (in the form of zirconium oxide, ZrO2) is literally a revolutionary material in terms of dentistry. We are very pleased to offer our patients a ceramic alternative to classic implants. It comes in white, does not contain metals and is harder than steel. And most importantly from a health perspective, it has excellent biocompatibility (does not endanger the human body) and durability.
Ceramics – despite the extremely complex manufacturing process – are the perfect material for implants. That´s why ceramic implants are now number one on the market worldwide (as confirmed by STRAUMANN®, which manufactures titanium implants and introduced the first ceramic implant in 2014).  
In terms of durability, zirconium implants show significantly better stability than titanium implants, including aesthetic advantages (unlike gray-black titanium, zirconium implants are white).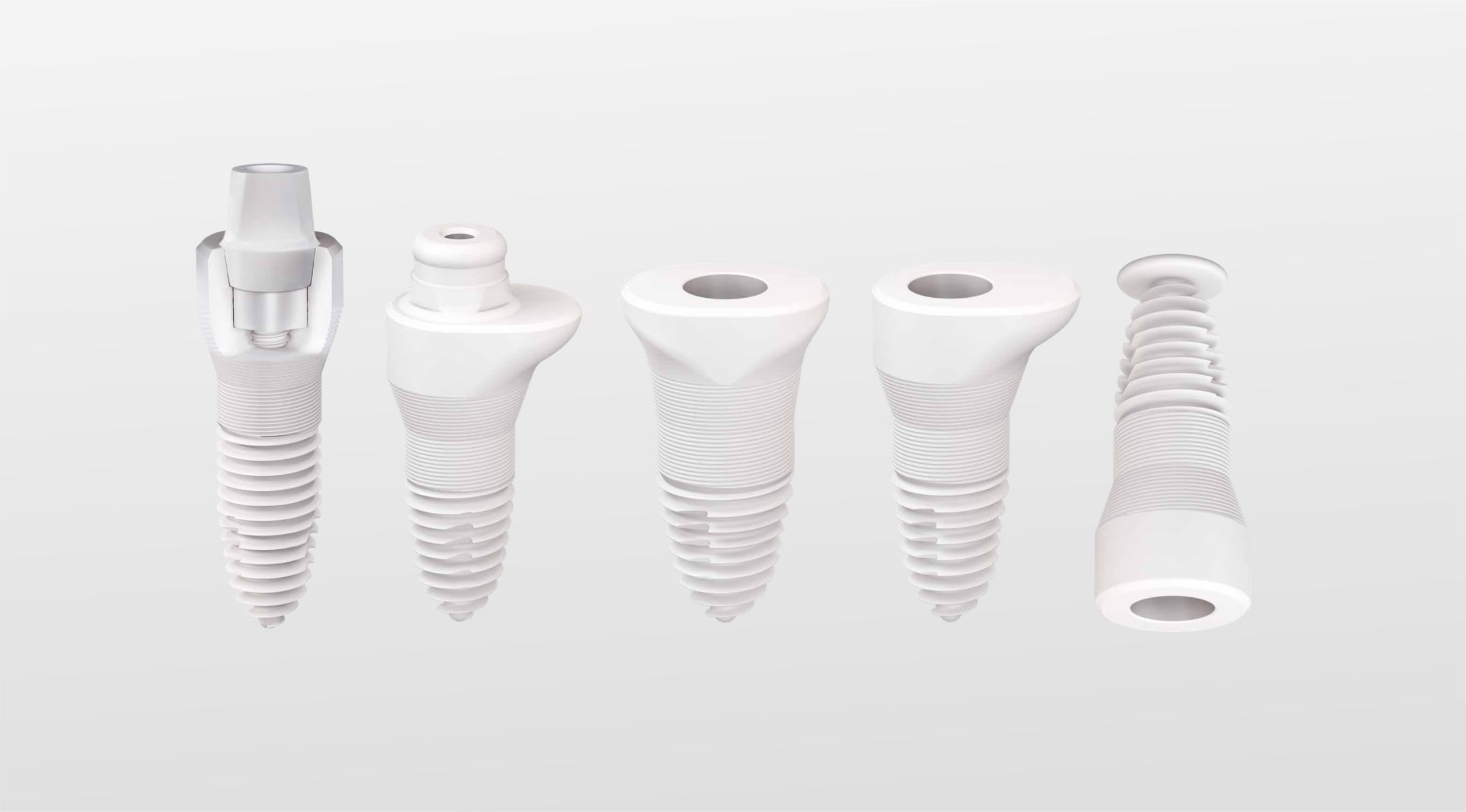 Let´s look at the main advantages of ceramics:
• Ceramics are an immunologically neutral and non-allergenic material whose biocompatibility guarantees full healing and osteointegration in the jaw bone.
• Ceramic implants are excellent in terms of aesthetics thanks to their white color that, unlike titanium, never shines through soft tissues.
• Ceramics pose zero risk of periimplantitis (inflammation around the implant) and are therefore a significantly better choice than titanium in the long term.
• Unlike titanium, ceramics are resistant to chemical corrosion, do not conduct electric current or heat.
• Soft tissue affinity: the soft tissues (gingiva) and bones can grow on the zirconium implant, but not on titanium. This prevents bacteria from penetrating between the implant and the gum.
• The absence of elongation with ceramics provides another key advantage: the implant remains completely stiff and motionless in the jaw bone, unlike titanium, which is a material with high elongation potential. Therefore, the thin tapering bone around the implant is not reabsorbed.
• Bacterial growth is very unlikely on the surface of a zirconium implant. Thus, it creates a more suitable environment in the oral cavity that supports the health of the gum around the implant.